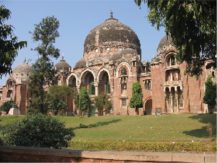 Arts Faculty building – before interventions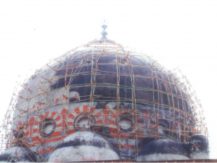 Cleaning the surface of the domes in progress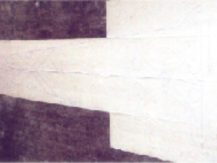 Plotting designs of the dome on cloth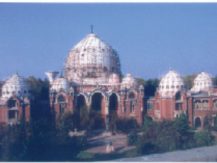 Plastering of external surface of the dome in progress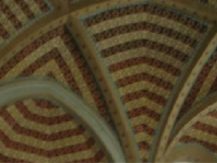 Ceiling of the central hall after repair of the frescoes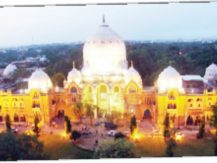 Arts Faculty building – after repairs
The key challenge was to erect scaffolding to facilitate work on the dome's curved surfaces and in between the double dome structure, without damaging the original structure.
THE CHALLENGE :
The second tallest unsupported dome in India was exhibiting structural and architectural damages, as was the central hall. The designs on the inside and outside had weathered away or were covered by years of accumulated algae, fungi and soot.
THE ODDS :
A historic building deserves a thorough analysis of materials, mix proportions and construction methods, to be able to restore it to its original glory.
OUR RESPONSE :
The first phase of our conservation work concerned itself with the repair and structural consolidation of the central hall and all the domes
We then painstakingly re-painted the intricate designs on the inside and the outside of the domes