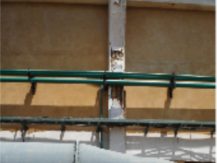 Damaged RCC column and beams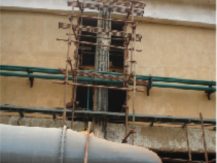 Column after corrosion treatment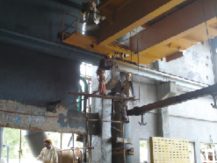 Patch work of column in progress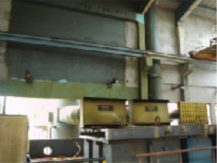 Structure after repair (from inside)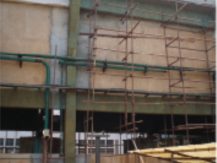 Structure after repair (from outside)
The repair process had to be carried out under full operating plant conditions.
THE CHALLENGE :
The structure was exhibiting acid-induced corrosion of steel, de-lamination of concrete and a consequent reduction in reinforcement size.
THE ODDS :
All the sectional sizes had to be kept the same, as the crane was mounted on the bracket of the column, leaving very little tolerance for us to work comfortably with.
OUR RESPONSE :
We took the usual curative and preventive measures for the widespread corrosion while hand-patching the damaged concrete sections
All structural elements were externally reinforced and all other allied civil works were undertaken during the process