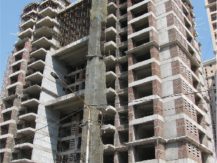 Residential complex under construction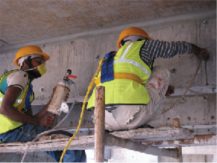 Grouting the ports with different variants of monomers with varying spacing, saturation level and pressure (Location specific)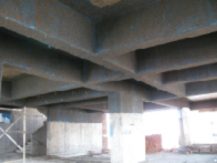 Beams & slab panels after completion of repair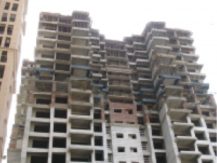 Construction work in progress during repair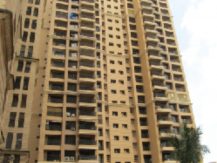 Structure after 2 years of repair
Construction of the remaining 8 floors continued unabated with a floor being added every 20 days, the additional weights of which had to be factored in, into our retrofit method.
THE CHALLENGE :
Stability of a residential high-rise was suffering from non-hydrated concrete that offered only 40% of its desired strength on the 15th and 16th floors.
THE ODDS :
To facilitate work and the repair of external RCC members, we had to project scaffolding from the 15th and 16th floors of the building.
OUR RESPONSE :
Post a detailed inspection of the structure, the cause of failure was analyzed and ascertained, and the following steps were taken:
Trials were conducted on site, as we designed and modified material and methodology to achieve the desired strength
Grouting and surface saturating of the RCC members with monomers was carried out
RCC members were reinforced externally with a fibre wrapping system