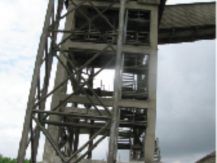 Transfer tower before repair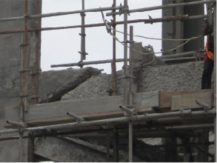 Damaged beam before jacketing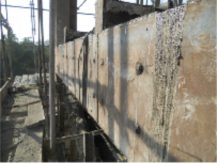 Damaged beam after steel plate jacketing and micro-concreting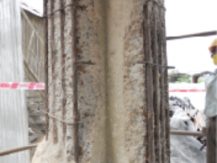 Corrosion of reinforcement and delamination of concrete cover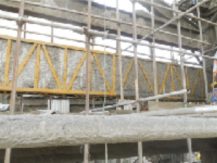 Externally reinforcing the beam with steel sections anchored to the parent concrete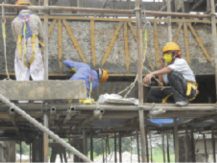 Patching the damaged concrete section with hand-applied micro-concrete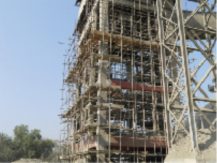 Transfer tower after repair
The repairs were carried out in perfect coordination with the material arrival schedules, given that the belt was in operating condition throughout the repairs.
THE CHALLENGE :
The beam was suffering failure due to the impact of the collapsed counterweight of the conveyor belt system. This was in addition to other issues such as corrosion of steel reinforcements and delamination of concrete cover.
THE ODDS :
The damaged beam had to be restored without dismantling it fully.
OUR RESPONSE :
As a first step, we treated the corrosion damaged RCC members
We followed it by grouting the cracks and the core concrete
Post which, we steel-jacketed and fibre-wrapped the damaged beam externally to reinforce it
Regular concrete jacketing was also done for all the RCC footings and columns