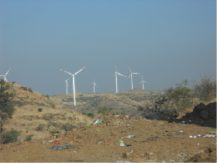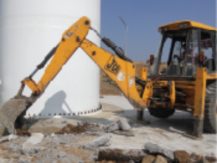 Excavation to expose the foundation in progress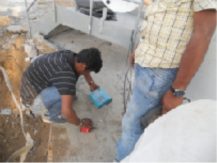 Detection of steel reinforcement inside the concrete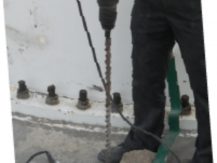 Drilling of steel reinforcement inside the concrete section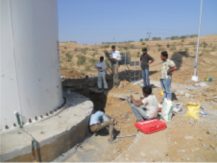 Grouting of foundation in progress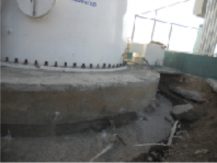 Foundation after completion of port fixing
The congestion of steel in the reinforcements hampered our initial progress as well as overall process, but satisfactory results were managed.
THE CHALLENGE :
Cavities in the core concrete of the foundation of the wind turbine were making the whole structure unstable.
THE ODDS :
The existing concrete foundation housed steel reinforcements that were very closely placed, making it virtually impossible to drill holes to fix nozzles.
OUR RESPONSE :
After an initial assessment, we excavated a bit to reveal the concrete foundation, in which we proceeded to drill holes for fixing ports to help us grout the cavities, which we did with modified cement grout.